This is the process for submitting a PAR for a new standard. All PARs must select a Standards Committee (SC) for consideration and must be accepted by the Standards Committee for the PAR to remain on the NesCom agenda. The PAR can be assigned to an existing Working Group or a new Working Group can be requested. The final step is for the PAR to be considered for approval by the IEEE SA Standards Board (SASB).
Applicable Users:
Notes:
The SC must have P&Ps (policies and procedures) accepted by the SASB before it can accept a submitted PAR.
Instructions:
On the myProject Home Screen click Menu.
Click View/Manage PARs.
Click Submit PAR.
Click PAR for a New IEEE Standard. Click the information (i) icon for details about each type.
Click Next.
Locate the appropriate SC and Working Group (WG) by using the search function or by clicking + to expand the Group Name list. (This is the group that is responsible for overseeing the standard development project. By selecting the appropriate group, the SC Chair and WG Chair are notified of the PAR submittal. The SC Chair/Standards Representative will need to accept the PAR in order for it to remain on a NesCom agenda.)
If the Working Group already exists, click Select.

If you need to create a new WG, click Request New working group and provide the requested information.
If the PAR is for a new WG that you need to create, the SC Chair/SC Representative will be notified of the new WG and will need to approve it and assign a WG Chair. NOTE: The PAR submitter must be an IEEE SA member.
Click OK.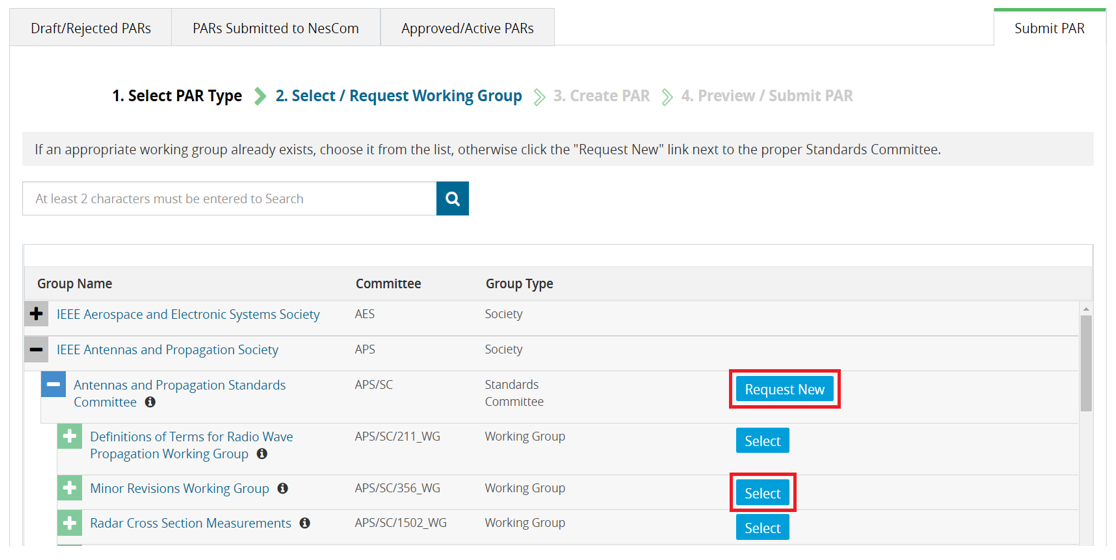 Complete the PAR form. Each section contains instructions for specific fields. The WG can be changed using the Change Working Group button.
When all necessary PAR form fields are complete, click the check box to acknowledge and accept the IEEE Code of Ethics.
Click Preview to review PAR and Submit.
Review the PAR and click Submit to NesCom Administrator.
The PAR will now be added to the next NesCom agenda and notifications will be sent to the WG Chair, SC Chair, Standards Representative (if applicable), Program Manager, and NesCom Administrator)

Once you submit the PAR, changes may only be made by the NesCom Administrator.