After a PAR is submitted in myProject, it will tentatively be placed on the next NesCom agenda. The PAR must be accepted by the Standards Committee Chair or Standards Representative before the NesCom meeting. In the case of co-Standards Committees, the primary Standards Committee must accept the PAR.
Applicable Users:
Standards Committee Chair, Standards Representative
Notes:
The PAR will not be considered by NesCom without Standards Committee acceptance. If the Standards Committee fails to accept the PAR, it will be moved to the following NesCom meeting agenda.

Standards Committee Chairs and Standards Representatives will receive an email and an alert in myProject to let them know that a PAR has been submitted for approval.

If the Standards Committee Chair/Standards Representative requests changes to be made to the PAR before accepting, please contact the NesCom Administrator (nescom-admin@ieee.org) to make those changes.

If a PAR has been submitted without a number, the PAR acceptance function will not be made available until a PAR number has been assigned by the NesCom Administrator.

Rejection of the PAR will not immediately remove the PAR from the upcoming agenda, but will result in a notification to the NesCom administrator to return the PAR to the submitter. The system will continue to show the PAR acceptance as pending until processed by the NesCom administrator.
Instructions:
On the

myProject Home page, click on the Alert indicating a PAR is waiting for your approval.

You can also see pending PARs by accessing the

myProject menu

, choosing

View/ Manage PARS

,

and clicking on the

PARS Submitted to NesCom tab

OR choosing

AudCom/NesCom/RevCom

, viewing the

My NesCom Submissions tab

,

and clicking on

Submission Details.
Review the assigned Working Group. If the Working Group is incorrect, click Change Working Group to modify the assigned group.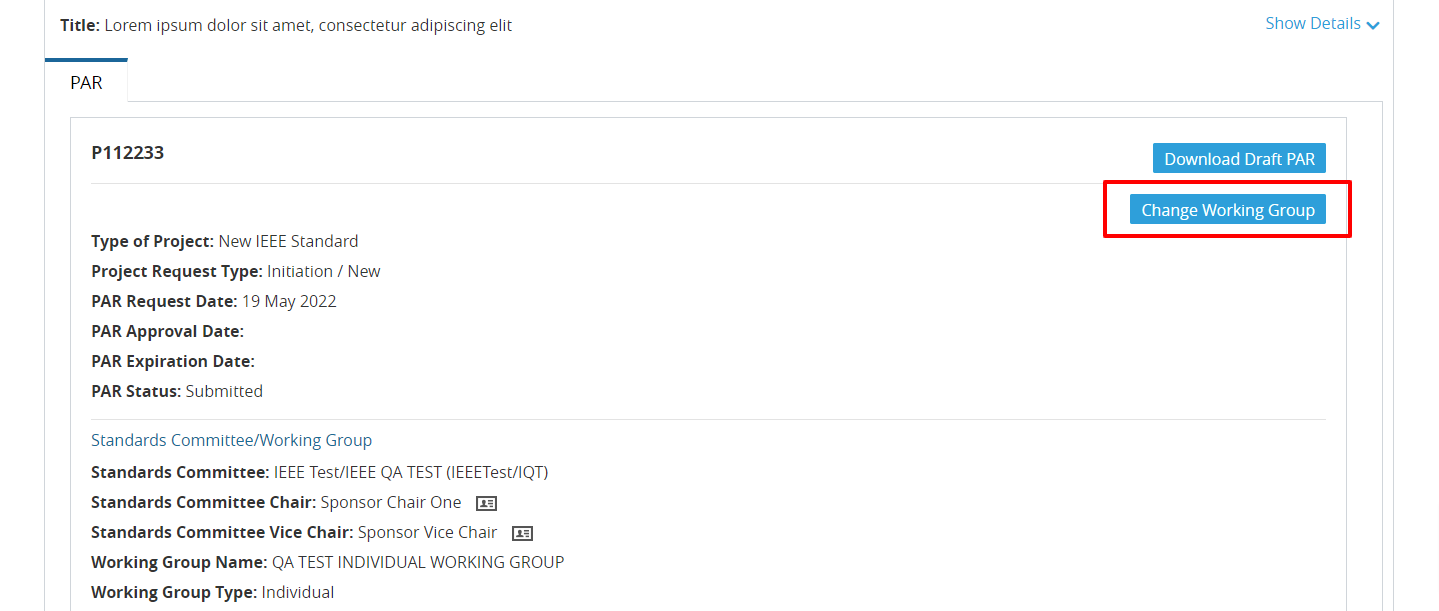 If a new Working Group has been requested, New Working Group Requested will be displayed. Click Review to approve the request or assign the PAR to another Working Group.

Review the PAR.
Click
Reject
or
Accept
.

Click Approve to confirm your acceptance. By accepting the PAR it can be placed on the next possible NesCom agenda.